At a recent event at the department of Health, Aarhus University, Phd Student Kaja W. Żuwała, from the group of Alexander Zelkin, received a 2nd prize for presenting her excellent research in the competition for the Fogh-Nielsen scholarship. With the awarded 2nd prize comes a scholarship of 40.000 DKK.
The Fogh-Nielsen scholarship is awarded to PhD students on the final part of their course and is given "to help continue excellent research efforts", as the call for applications states
Kaja Żuwała, PhD student at the Department of Clinical Medicine (Supervised by Dr. Martin Tholstrup and Dr. Alexander Zelikin):
Thirty-seven million people globally are living with HIV virus, which is one of the leading causes of death in the world. Present methods of treatment can suppress HIV virus and stop the progression of the disease, but cannot cure patients. The virus persists in the patients' cells in a state of latency and hides from our immune system. Therefore, HIV patients have to take their drugs lifelong. Kaja Zuwala examines a new drug called panobinostat. Panobinostat wakes HIV from its state of latency and reveals the virus to the immune system, which can kill the infected cells. Unfortunately, panobinostat, which is approved for the treatment of cancer, has side effects. Kaja Zuwala's research aims to reduce the side effects of panobinostat and to target the HIV-infected cells only.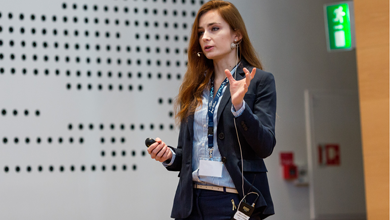 Photo: Maria Randima Brauer Sørensen