Our most recent publica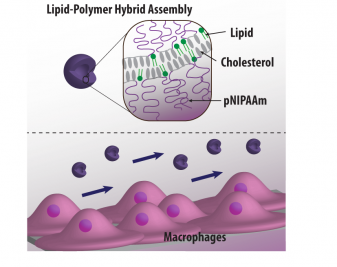 tion on Phospholipid—polymer amphiphile hybrid assemblies and their interaction with macrophages has been published in Biomicrofluidics. The paper is a collaboration with the Städler group at Aarhus University.
Recently, the combination of lipids and block copolymers has become an alternative to liposomes and polymersomes as nano-sized drug carriers. We synthesize novel block copolymers consisting of poly(cholesteryl acrylate) as the hydrophobic core and poly(N-isopropylacrylamide) (PNIPAAm) as the hydrophilic extensions. Their successful phospholipid-assisted assembly into vesicles is demonstrated using the evaporation-hydration method. The preserved thermo-responsive property of the lipid-polymer hybrids is shown by a temperature dependent adsorption behaviour of the vesicles to poly(l lysine) coated surfaces. As expected, the vesicle adsorption is found to be higher at elevated temperatures. The cellular uptake efficiency of hybrids is assessed using macrophages with applied shear stress. The amount of adhering macrophages is affected by the time and level of applied shear stress. Further, it is found that shorter PNIPAAm extensions lead to higher uptake of the assemblies by the macrophages with applied shear stress. No inherent cytotoxicity is observed at the tested conditions. Taken together, this first example of responsive lipid-polymer hybrids, and their positive biological evaluation makes them promising nano-sized drug carrier candidates.